What Do We Believe?
SCRIPTURES
We believe in the verbal, plenary, divine inspiration of scripture. Every word was breathed by God, and written by men moved by the Holy Ghost. The bible is our sole authority for faith and practice, and is completely inerrant. We believe God originally inspired the Word, and perfectly preserved the Word through the 1611 King James Version of the Bible. There is no need to change or better the Word of God. It is perfect!(Isaiah 40:8; John 10:35; ll Timothy 3:16; ll Peter 1:19-21)
GOD
There is one supreme God, omnipotent, all powerful, there is nothing He cannot do. Our God is omniscient, all knowing. Our God is also omnipresent meaning he is everywhere at all times. He manifests Himself in three persons: Father, Son and Holy Spirit; He is one in nature, attributes, power and glory. ( Genesis 1:1; Mark 12:29; Matthew 28:19; ll Corinthians 13:14; John 1:1-4; John 5:17-27; Philippians 2:6-11).
JESUS CHRIST
Jesus Christ was begotten by the Holy Spirit, born of the virgin Mary. He is therefore true God and true Man. Jesus Christ is impeccable in His nature and sinless in His life. He died on the cross and shed His precious blood as an atonement for our sins; was buried and rose again the third day. he ascended into Heaven and as our High Priest intercedes for us. He is coming again for His church (Matthew 1:18-25; John 1:1-4, 14; Philippians 2:6-11; Luke 1:26-35; l Timothy 3:16).
THE HOLY SPIRIT
The Holy Spirit is a Divine person; the third Person of the Trinity. he is the administrator of the things of God; convicting of sin, revealing Christ, teaching the truth, restraining evil, energizing believers in prayer, worship, and service and is ever present in the believer as our Comforter and Helper (Psalm 139:7-12; John 7:38-39, 15:26, 16:3, 14; Acts 1:8; Romans 8:9; l Corinthians 6:19; ll Thessalonians 2).
SALVATION
All who believe on Jesus Christ as Saviour are justified on the ground and merit of His shed blood on the cross, and are saved by grace through faith, wholly apart from human merit and works ( John 1:29; Acts 13:38-39; Ephesians 2:8-10; Titus 3:3-8). All who are born again by the Spirit of God through faith in Christ are eternally secure (John 5:24, 10:22-29; ll Timothy 1:12; Philippians 1:6; Romans 8:32-39).
THE CHURCH
The local church is a called out assembly of believers who assemble together in obedience to Christ's command for this age. The local New Testament church is the agency through which God works to carry out the Great Commission to the lost and dying world. We believe that God has given the church two ordinances baptism by immersion and the Lord's Supper. ( Matthew 16:18, 18:17, 28:19-20; l Corinthians 1:2; Mark 16:15-16).
SATAN
Satan is a real personality; a created being of great beauty and power, the prince of this world, the god of this air, the spirit that now worketh in the children of disobedience. He will ultimately be judged and cast into the Lake of Fire (Ezekiel 28:12-19; Isaiah 14:12-14; Job 1:1; John 8:44; Revelation 20:1-3, 7-10).
THE ETERNAL STATE
We believe in the bodily resurrection of all the dead; the saved to a life of eternal glory and bliss in Heaven with God; the unsaved to eternal judgment of conscious suffering and woe in the Lake of Fire ( John 5:28-29; Revelation 20:6, 11-15, 21:1-8; Matthew 10:28; ll Thessalonians 1:6-9 ).
THE MILLENIUM
After His personal, bodily, visible return at the end of the tribulation, the Lord Jesus Christ will establish His kingdom on earth and reign as the blessed and only potentate for one thousand years. He will rule with a rod of iron, and Satan will be bound during this time. (l Timothy 6:14-15; Revelation 20:6-7; Isaiah 65:15-25).
SEPARATION
We believe that all those that belong to Christ should live a life of holiness. As we come close to Him, He sanctifies us and gives us the desire to live a consecrated life in the abundant joy that His presence supplies. We believe that walking in the Light means living in such a manner as not to bring reproach upon their Savior and Lord. We believe Biblical separation to also include separation from all religious apostasy, all worldly and sinful pleasures, practices and associations. (II Timothy 3:1-5; Romans 12:1, 2,14:13; I John 2:15-17; II John 9-11; II Corinthians 6:14-7:1).
CHURCH SEPARATION
We are not ecumenicle and do not fellowship with churches who are not of like faith. We reject the tongues movement and prosperity gospel preaching
MUSIC
We believe Christian music is that in which the music, lyrics, performers, and performances practices are conforming to the image of Christ. We sing mainly the traditional Hymns and Gospel songs, but also some modern songs that adhere to the above values. We believe the goal of church music is to glorify our Savior. All music sung and performed is done so with that in mind. John 3:30 "He must increase, but I must decrease."
THE TRIBULATION
The Tribulation Period is a 7 Year period of tribulation following the rapture of the church. 144,000 Jews saved to evangelize the world (Revelation 7). God will pour out His judgments upon the face of the earth. (Revelation 6, 8, 9, 16, 17, 18) Following that is the Battle of Armageddon where Satan's forces are defeated by the return of Jesus Christ (Revelation 19) The Beast and the False Prophet are cast into the Lake of Fire (Revelation 19:20). Satan is bound and cast into the bottomless pit for 1,000 years (Revelation 20:2-3)
Trinity Baptist Church
1011 Providence Rd
Secane, PA 19018
Services:
Sunday School – 10 AM
Adult Bible Classes – 10 AM
Sunday Morning – 11 AM
Sunday Evening – 6 PM
Wednesday Prayer Meeting & Bible Study – 7 PM
Nursery provided for each service for children age 3 and under.
What We Believe
THE SCRIPTURES
We believe the Old and New Testaments to be verbally inspired of God, inerrant in the original writings, preserved for us today without error in the Authorized King James Version of 1611, and that they are of supreme and final authority in faith and life (II Tim. 3:16-17; II Peter 1:19-21).
We reject modern translations of the bible as being true translations of the word of God. We insist that the KJV translation of the bible be used in the Sunday School, from the pulpit, and in all other meetings associated with our church.
THE GODHEAD
We believe the godhead eternally exists in three persons, Father, Son, and Holy Spirit… that these three are one God, having precisely the same nature, attributes and perfections (Gen. 1:1, 1:26; Matt. 3:16-17; Matt. 23:19-20; II Cor. 13:4; Rom. 8:9).
THE LORD JESUS CHRIST
We believe in:
(1) his eternal existence as God (Heb. 1:8);
(2) his incarnation by means of the virgin birth (Luke 1:35; Isa. 7:14);
(3) his death on the cross as the substitutionary atonement for sin (Rom. 3:25; Heb. 9:14);
(4) his literal bodily resurrection from the dead (Luke 24:36-43; Acts 10:40-41);
(5) his present ministry of intercessions in heaven (Acts 1:9; I John 2:1; Heb. 8:1-2);
(6) his personal return to earth (Acts 1:11; I Thess. 4:16; Col. 2:9; Matt. 26:64).
HOLY SPIRIT
We believe the Holy Spirit, the third person of the godhead, convicts men of sin (John 16:8), regenerates, indwells, seals (I Cor. 3:16; Eph. 1:13-14), and sets believers apart unto a holy life; that he keeps and empowers believers day by day; that he is the teacher of the word of God and guide for our daily life. Anyone who does not have the Spirit living in his heart is not a child of God (Rom. 8:9).
MAN
We believe:
(1) man was created innocent and pure (Gen. 1:26);
(2) Adam fell through the sin of disobedience (Rom. 5:19);
(3) thereby, all men are corrupted in body, mind, and soul (Rom. 5:12);
(4) therefore, all are in need of redemption.
SATAN
We believe in the reality and personality of Satan (Job 1:6-9, Job 2:3; Matt. 4:1-11; I Peter 5:8; James 4:7).
SALVATION
We believe:
(1) that salvation is solely by grace through faith in the blood sacrifice, death, and resurrection of Jesus Christ the son of God;
(2) all who receive him are regenerated by the Holy Spirit and become children of God;
(3) all who are truly saved are kept forever;
(4) however, God cannot overlook sin in his children and will chasten and correct them in love (Heb. 12:5-8).
THE CHURCH
We believe
(1) that the local church is composed of regenerated, baptized believers, voluntarily united together for the purpose of worship, edification; fellowship of believers, spiritual growth and service;
(2) it has been commissioned by Christ to propagate the gospel unto the uttermost parts of the earth;
(3) that the local church has absolute right of self-government free from interferences of any hierarchy of individuals or organizations – and that the one and only superintendent is Christ, through the Holy Spirit;
(4) that on all matters of membership, of policy of government, of benevolence, the will of the local church is final (Acts 2:41-47, 4:33-37, 5:1-20).
THE ORDINANCES
We believe that Christ gave only two ordinances to the church to be observed "till he come."
THE LORD'S SUPPER

It was left us as an ordinance by the Lord himself (Matt. 26:26; Mark 14:22-24 and others) for a memorial of his death until he comes and should not be taken unadvisable, but with the examination of one's life.

BELIEVER'S BAPTISM

We practice baptism because of the example of our Lord Jesus while he was here on earth (Matt. 3:13), and because of the command given by him to be baptized (Matt 28:19). We accept as scriptural, baptism by immersion.
It should be made clear that there is no saving power in baptism — it is meant for those who are already saved — giving a clear picture of the fact that the believer is dead, buried, and raised spiritually with Jesus Christ by faith in him.
THE FUTURE
We believe in:
(1) the personal premillennial, second advent of Jesus to earth;
(2) the pre-tribulation rapture of all born-again believers (I Thess. 4:13-18).
SEPARATION
We believe it is our duty to call the attention of believers to the scriptural teaching of separation and that we should abstain from worldly practices and live a life devoted unto the Lord (Rom. 12:1-2).
MISSIONS
Because all men everywhere without Christ are lost and bound for the eternal punishment (Rom. 1: 18-20), and because men cannot believe in him of whom they have not heard (Rom. 10:14), we believe that we are debtors to all men and have the responsibility of giving them the gospel. Jesus left us the command that we should be witnesses for him (Acts 1:8) and should take the good news of the gospel to every place where men are to be found (Matt. 28:19-20 and others). We believe that to carry out this command, we must ourselves be witnesses by life and word to tell all lost men about Christ and we must support by prayer and financial aid those who go out under missionary agencies to represent us in other parts of the world.
– Back –
The Bible Way To Heaven
A message from Pastor Sweitzer
Admit You Are a Sinner
"As it is written, There is none righteous, no, not one:" Romans 3:10
"For all have sinned and come short of the glory of God." Romans 3:23
God Has Already Provided for Your Salvation
"For God so loved the world, that He gave His only begotten Son, that whosoever believeth in Him should not perish but have everlasting life." John 3:16
"But God commendeth his love toward us, in that, while we were yet sinners, Christ died for us." Romans 5:8
"…Christ died for our sins according to the scriptures; and that he was buried, and that he rose again the third day according to the scriptures…" I Corinthians 15:3-4
Realize That You Cannot Save Yourself
"For the wages of sin is death; but the gift of God is eternal life through Jesus Christ our Lord." Romans 6:23
"But the fearful, and unbelieving, and the abominable, and murderers, and whoremongers, and sorcerers, and idolaters, and all liars, shall have their part in the lake which burneth with fire and brimstone: which is the second death." Revelation 21:8
"How shall we escape, if we neglect so great salvation; which at the first began to be spoken by the Lord, and was confirmed unto us by them that heard him;" Hebrews 2:3
"Not by works of righteousness which we have done, but according to His mercy He saved us…" Titus 3:5
Repent of Your Sin
"…except ye repent, ye shall all likewise perish." Luke 13:3, 5
"And the times of this ignorance God winked at; but now commandeth
all men every where to repent:" Acts 17:30
"Testifying…repentance toward God, and faith toward our Lord Jesus Christ." Acts 20:21

Ask Jesus Christ to Save You
"That if thou shalt confess with thy mouth the Lord Jesus, and shalt believe in thine heart that God hath raised him from the dead, thou shalt be saved." Romans 10:9
"For whosoever shall call upon the name of the Lord shall be saved."  Romans 10:13
"…Believe on the Lord Jesus Christ, and thou shalt be saved…" Acts 16:31
Receive Christ as Your Saviour
Have you asked Christ to save you? Have you been born again?
If not, will you right now receive him as your Savior?
If you believe with all your heart, you can trust Christ alone for salvation.
Pray a simple prayer by faith…
"God, be merciful to me a sinner.
LORD Jesus, I repent of my sins.
I believe you died for my sins and rose again.
Come into my heart and life
and save my soul.
In Jesus name, Amen"
Ministries at Trinity
Sunday School Classes
Adult Bible Classes
Trinity Bookshelf Bookstore
Soul-Winning
Visitation
Street Preaching
Monthly Men's Bible Studies
Ladies' Bible Studies
Nursing Home Ministry
Tract Ministry
Nursery Ministry
Hospitality Ministry
Couples Retreats
Men's Retreats
Ladies' Retreats
Spring Revival 2021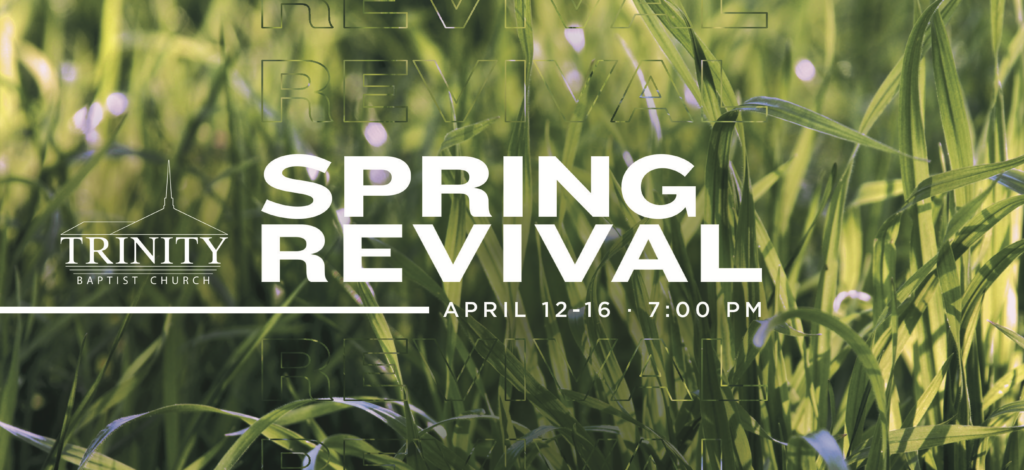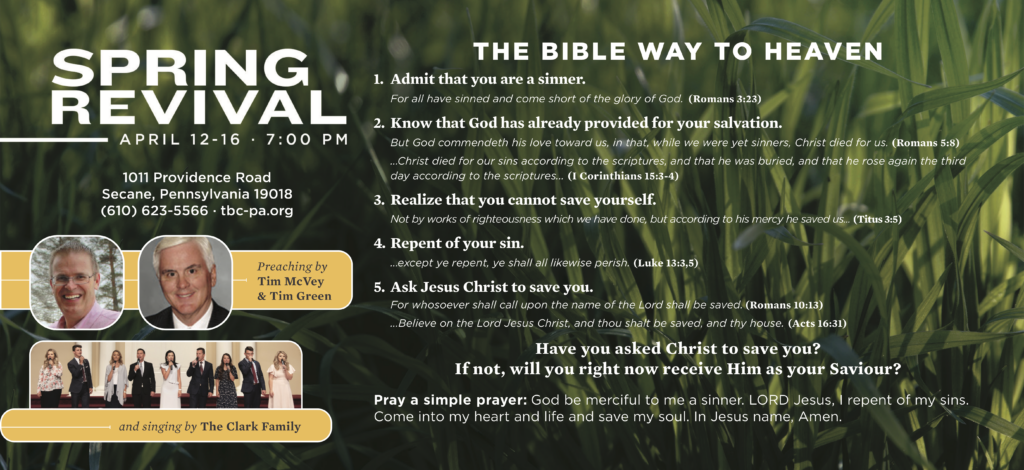 DRIVE-IN SERVICE!
To attend the Drive-In Service,
Please park in the East Parking Lot. (see map)
You can listen to the service from your car radio on 87.9 FM
Easter Schedule
Sunday, April 4, 2021
SONrise Service at 8:00 AM
at Tinicum Wildlife Refuge on Rte. 420 (see map below)
followed by breakfast in the Church Fellowship Hall
Morning Service at 11:00 AM
Evening Service at 6:00 PM

DRIVE-IN SERVICE!
To attend the Drive-In Service,
Please park in the East Parking Lot. (see map)
You can listen to the service from your car radio on 87.9 FM
Couple's Retreat 2020
Please go to our Facebook page or call the church office for more details.
DRIVE-IN SERVICES
In addition to our services in the auditorium,
our services can also be heard from your car radio!
To attend the Drive-In Services,
Please park in the East Parking Lot. (see map below)
You can listen to the service from your car radio on 87.9 FM

Mother's Day
Sunday, May 8
On Mother's Day at Trinity, we are privileged to honor the mothers in our church. We recognize the great role that moms have in the home. Mothers, according to the Bible, are to guide the house and to be keepers at home (I Timothy 5:14, Titus 2:5). We thank God for our mothers and cherish the memory of those who have passed away.
Join us this Mother's Day as we honor them for their love for us and for the sacrifices they make to care for their children.
Come and be our guest at Trinity this Mother's Day!

Mid-week Series: Studying the Psalms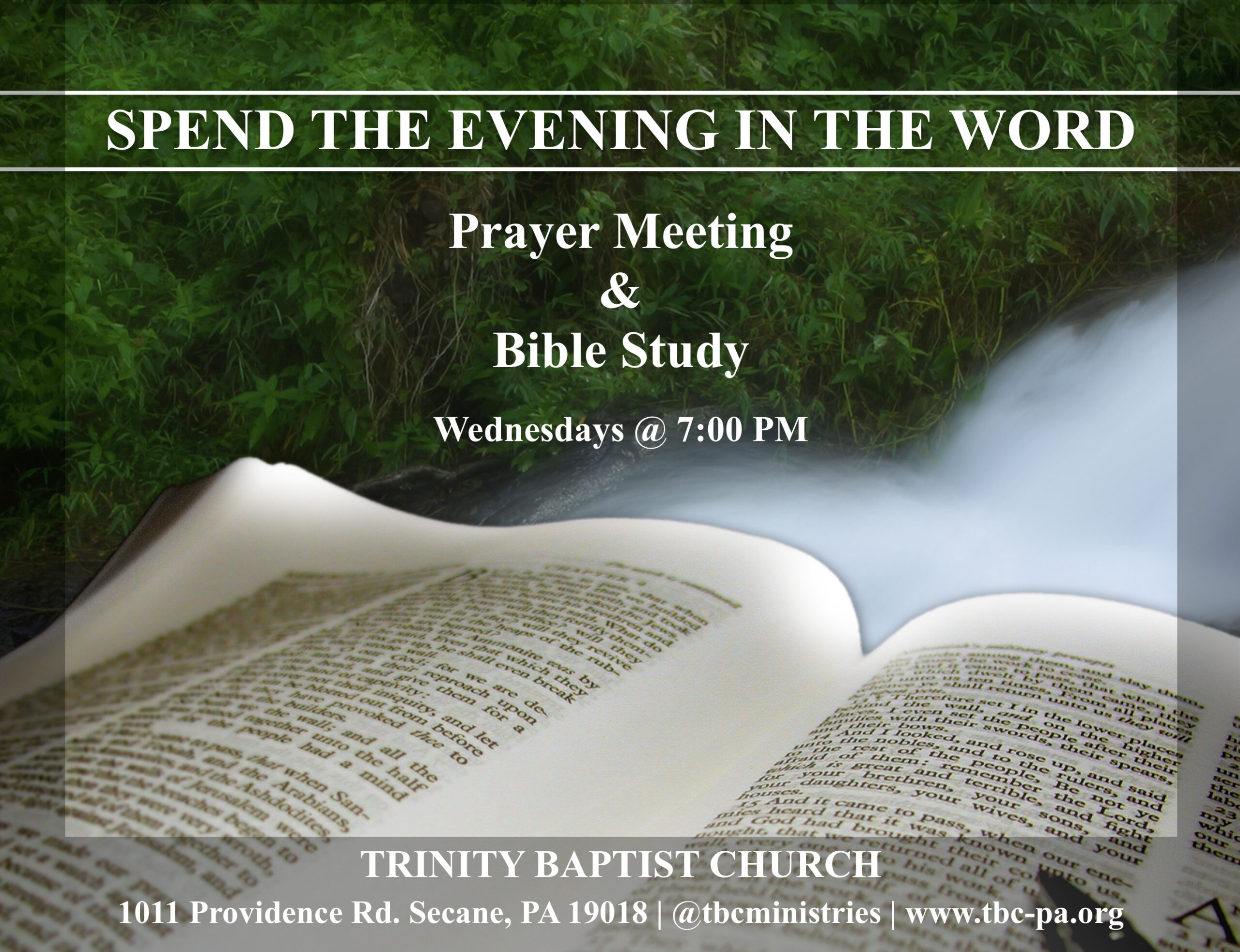 Memorial Day
Monday, May 31
Memorial Day is observed in the United States on the last Monday of May, honoring the men and women who died while serving in the U.S. military.
Originally known as Decoration Day, it originated in the years following the Civil War and became an official federal holiday in 1971. Many Americans observe Memorial Day by visiting cemeteries or memorials, holding family gatherings and participating in parades.
On Memorial Day weekend at Trinity, we honor the memory of those who, in securing our country's freedom, have paid the price with their lives. Our freedom to assemble has been preserved by the sacrifices of generations of men and women.
"Greater love hath no man than this, that a man lay down his life for his friends." –John 15:13

Summer Revival 2021
AUGUST 15th-19th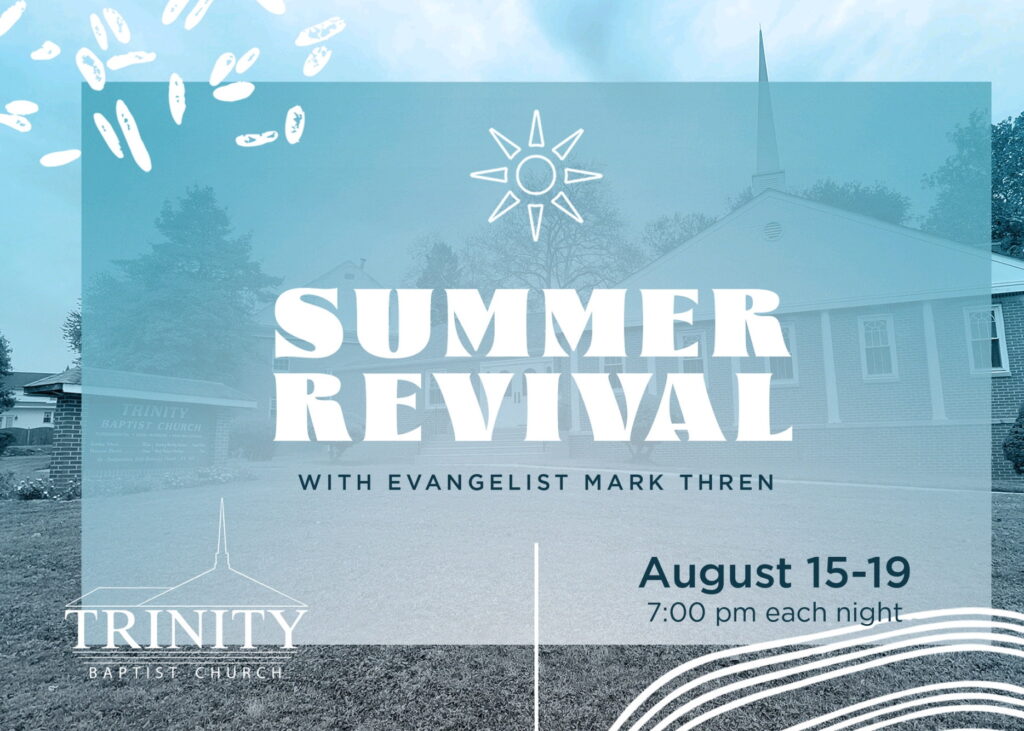 Preaching by:
Evangelist Mark Thren
Evangelist Tim McVey
Pastor Burton Gates
Pastor Charles Clark, Jr.
Special Music by:
The Thren Family
Veterans Sunday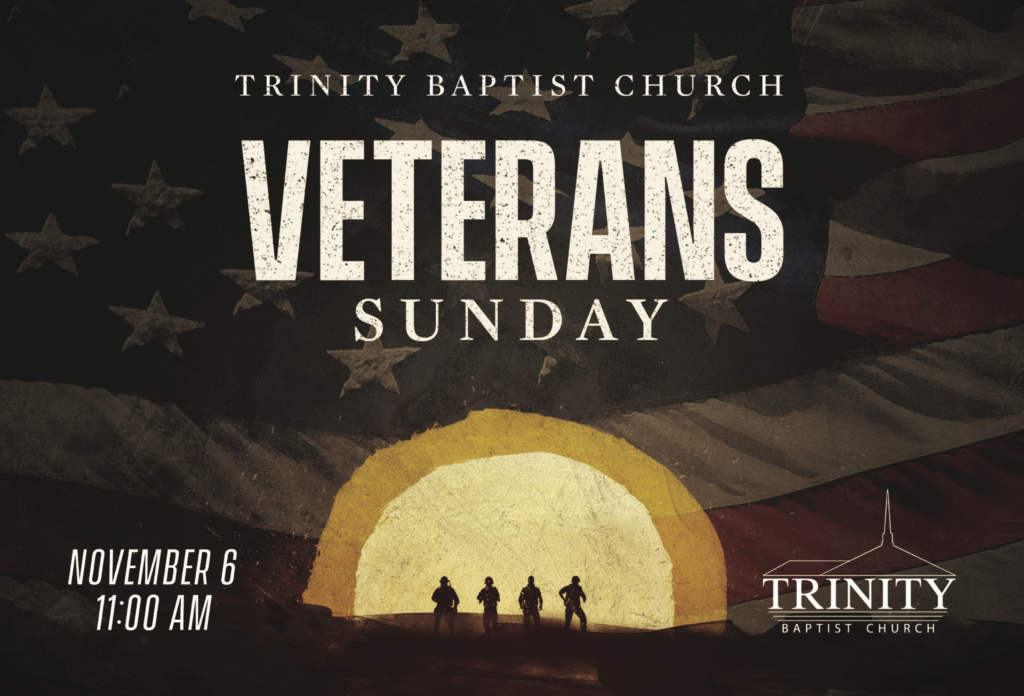 Join us in honoring those who have served our great country.
A dinner for all Veterans and their families will be provided following the morning service.
We'd be honored to have you as our guest!
Please RSVP
Online Registration Form
or
Call the church office at 610-623-5566